I have been asked several times about doing a step-by-step on a run of banjo ukes so I am going to give it a go.
Day One:
(8 hrs)
Wood selection
- We have been doing a lot of native woods lately so I thought for this run I would do some exotics for a change of pace. I spent some time in the wood shed and selected four different woods.
First is canary wood. I haven't built with this wood before but I like the yellow color and the density and consistency of the material is nice.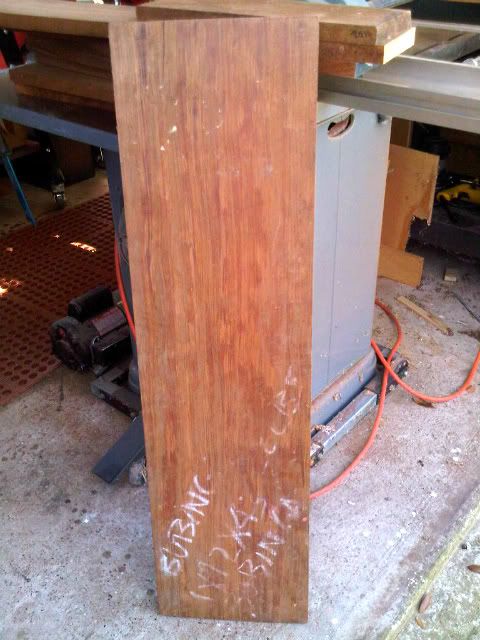 Second is bubinga. Bubinga is frequently used in guitar construction so it seems like it should be a winner for a banjo.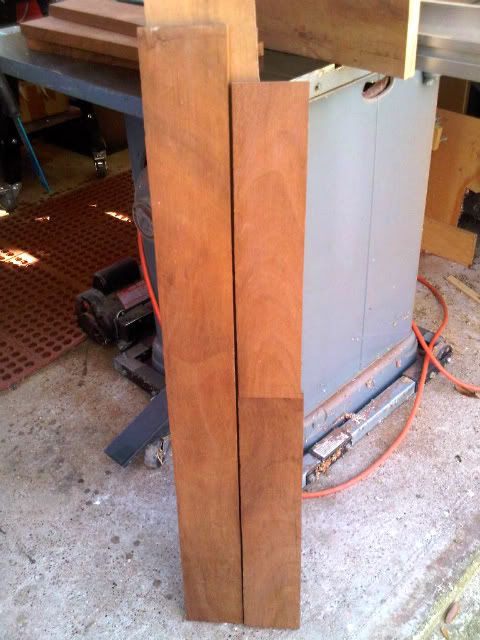 Next is jatoba. We have built with jatoba previously and I really like how it looks and sounds.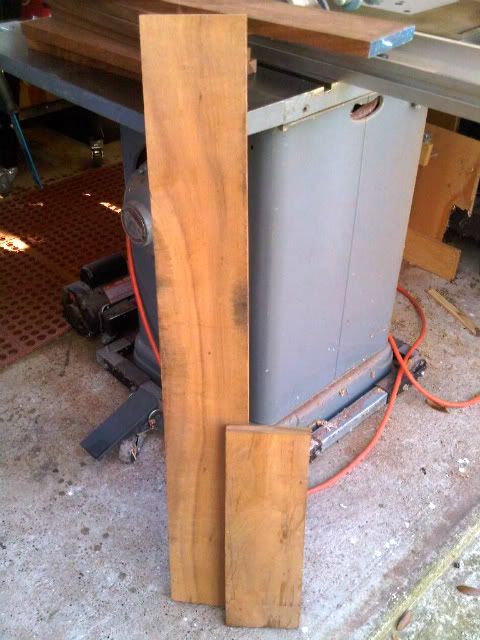 Lastly is koa. I have been wanting to build a koa Spanky for some time. I picked out some nice light koa for the neck and pot and will select a piece with some dramatic grain for the resonator.
Material prep

-
The next step is to rough dimension the material. I didn't think to take pictures of this basic tablesaw & jointer work.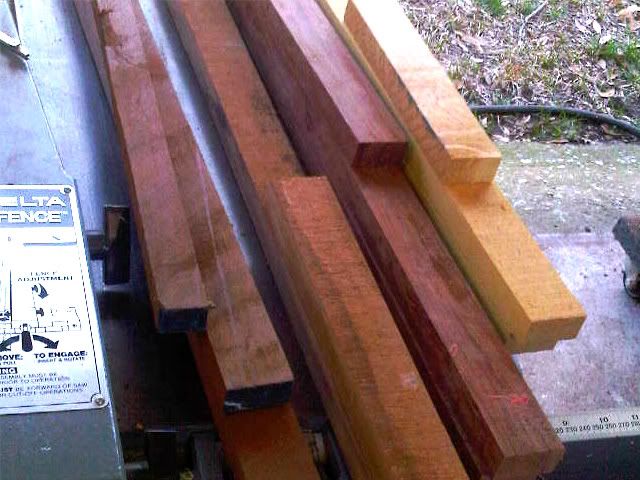 Milled material
Building the pot
- The pots are assembled from 16 staves formed into a ring using bird's mouth joints.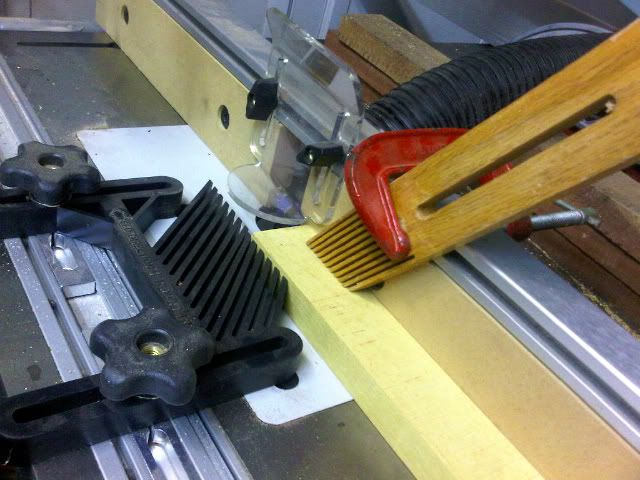 Cutting the bird's mouth with a router set-up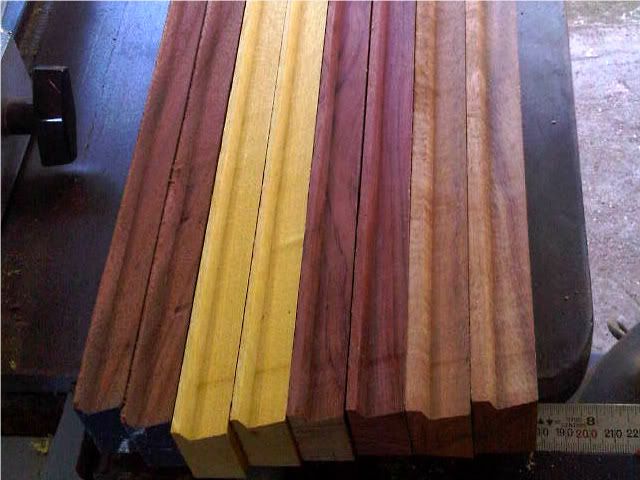 Long staves ready with bird's mouths cut.
Cutting the long staves down into the short pot segments on my Hammond Glider which is the perfect tool for this step.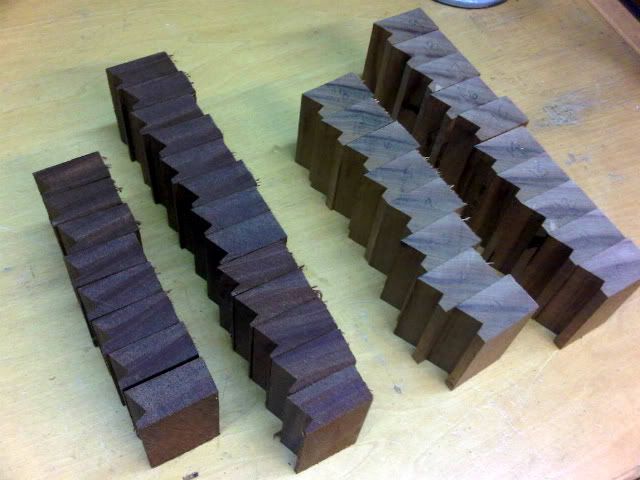 Segments ready for gluing.
Glue applied.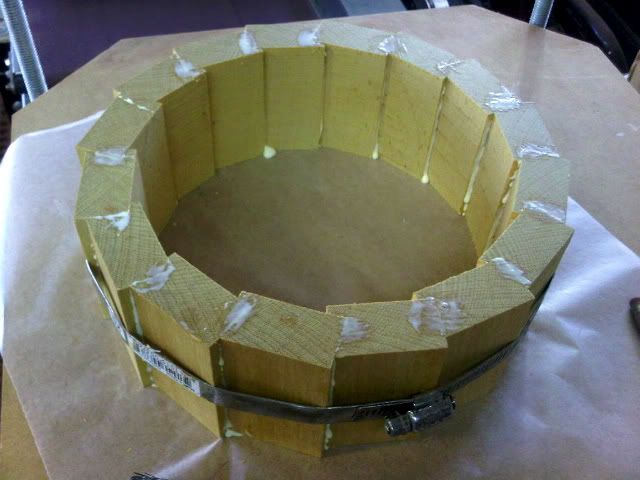 Canary wood pot glued and clamped.
Bubinga pot glued and clamped.
Laminating neck blanks
- I glue up the neck blanks from three layers of material. This adds stability by balancing the stresses in the wood and also allows for a more efficient use of the material.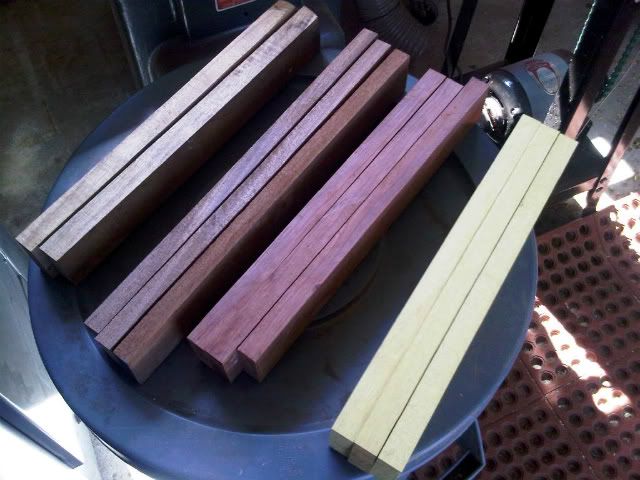 Neck material. After dimensioning on the table saw I run these boards through the drum sander to prepare them for gluing.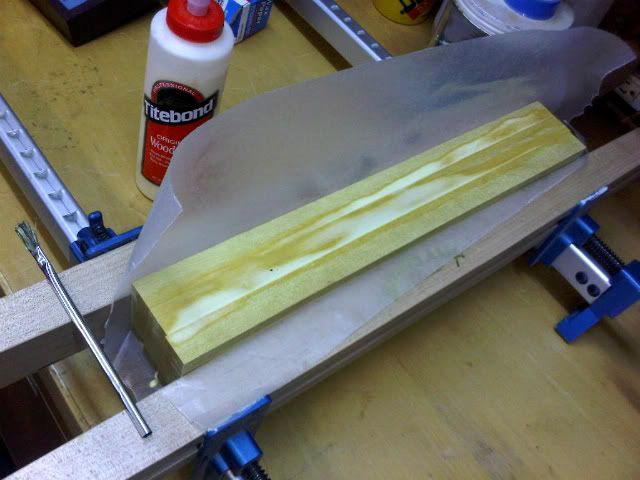 Canarywood neck in clamps.
Bubinga neck in clamps.
At the end of day one I have the four neck blank laminations glued up, the four pots glued up, and two of the resonator blanks prepared.
More tomorrow.
Phil